A sampling of some of the (lesser known?) Kölsches whose breweries we've recently visited.
Malzmühl Brauhaus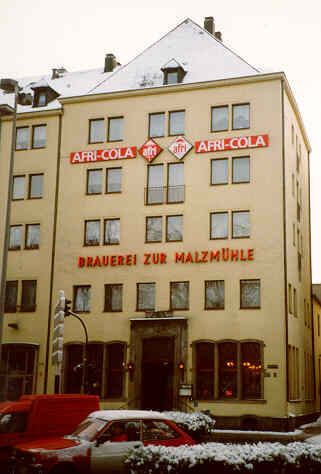 We tried our first Malzmühl Kölsch this weekend. For those of you who don't know, to call your beer a Kölsch, it must be brewed in a place where you can see the cathedral. Malzmühl is definitely different than other Kölsch varieties we'd encountered, more on the malty side, where most Kölsch is crisp and light. It'd been on our must-try list since we read about it on the invaluable
European Beer Guide
, but we haven't yet seen it served in bars or sold in grocery stores. So we paid a visit to the brewery in the Heumarkt neighborhood (where we forgot that playing cards in bars is generally not allowed in Germany and had to end our cribbage game after one round). And, still comfortable acting like tourists here, we documented the event in photographs.
Hausbrauerei Päffgen

We weren't busted for engaging in any games of chance at the Päffgen brewery site (just off of Friesenplatz), but we did sample their fine Kölsch beer. Certainly closer to the traditions of the Kölsch style than Malzmühl, it was nonetheless a variation on the standard flavor. We've seen it described as "bitter," with Früh Kölsch offered as an example of "hoppy." Northwesterners shouldn't misconstrue "hoppy" as having anything to do with the Willamette Valley grapefruity bitter bite, but I'd agree that Früh may be a bit hoppier than its local competition. Anyway, our glasses of Päffgen were refreshing and delicious, and the bar was a nice, very quiet hangout (granted, it was a Sunday), with no loud music, and no boisterous singing Germans.
Brauhaus Sion
Since we're on the subject of Kölsches, we should mention that last weekend we did check out Brauhaus Sion, near the Dom. This is a more commonly found Kölsch (like Früh, Dom, Riesdorff and Gaffel), yet still unique (as our other European beer guide, Mr. Mark Brindle, described). The large multi-roomed pub, like many others near the Dom, was filled with large tourist groups, but we still enjoyed a delicious few test tubes of beer and some cheese to tide us over until lunch. The photographic evidence of our trip here, looks just about the same as the other ones above.