Friday, while Kelly was giving a talk at an A.G. conference, I checked out the Kunstsammlung Nordrhein-Westfalen, Düsseldorf's contemporary art museum, split into two spaces referred to briefly as K20, and K21. K20's feature exhibition was a retrospective of large-scale photographs by Hiroshi Sugimoto. I've always liked his pictures, but I think this might've been the first chance I've had to see them outside cramped reproductions from library books.
The first room of photos consisted of a half dozen or so of Sugimoto's seascape photos, each maybe 4' x 4' in size, and all black-and-white. An artist statement quoted on the wall described these as attempts to capture images we might experience as "primitive man" might have. Initially, Sugimoto thought of Mt. Fuji as a subject, but found that too much of the surrounding landscape had changed. Open water, however, is less subject to change, "immutable." Hauntingly beautiful, too - the stillness of the water and hovering mist, the sheer bigness of both the sea and the sky, and the striking lack of people or solid ground lends each photo a sort of otherworldly quiet, and seems to demand at least a little awe. I couldn't shake the feeling that there was something familiar about these. I already knew this series of photos, so in part I was recalling that, but I also felt like I'd actually been in such a position, staring at nothing but sea in front of me. Yet I can't think of any opportunity I'd have had. From a plane, sure – but that's a very different vantage point, and certainly a different situation. Maybe I dreamt it? I didn't have much chance to ponder this question, as I was distracted by the difficulty of actually
seeing
the sea in these dim, hazy photos. Each was positioned in a large glass frame, the glass hovering a little above the surface of the print. The glass spotlessly clean, and the room flooded with light, I had to fight my own reflection to make out the barely defined seam where the water and the sky meet, sometimes elusive even without this added obstacle. This was annoying, but also sort of interesting. By overlapping the insistent fact of the glass's surface over its own transparency, I was denied an opportunity to forget myself in these potentially contemplative images of nature. There's the ocean, this unfathomably vast,
elemental
thing. And there's skinny ol' me. Another viewer might succeed in reconciling these things – the self and the transcendental – but to me they were at odds. It's incredibly easy to lose the thread of thought about ocean and silence and our insubstantial place in it all with the reflection of your messed-up hair standing defiantly before you. So instead I thought, as I almost always do, of Gerhard Richter. He's painted similar seascapes, but I was thinking more of his works dealing with glass as both window and opaque surface (more on that in a minute). I also thought back to Sugimoto's idea of a shared experience with pre-civilization, which seemed a lot more complicated now. For one, I didn't have get up before dawn to row myself out into some vast body of water, find a quiet spot, and wait for my boat to stop rippling the surface. I'm not freezing my ass off, and I'm not fishing for my breakfast. So I'm not much in a position to be caught off guard by the beauty of the world. In fact, I traveled by tram into the center of Düsseldorf, checked my backpack and coat, and paid an admission fee on the assumption that I could reasonably expect, even demand, such an experience. As for primitive man, he/she isn't interrupted by this glass frame obstacle, and isn't surrounded by fashionable Europeans thoughtfully stroking their chins in a ritual of shared appreciation. Not to mention, primitive man isn't seeing the sea and sky in silvery black-and-white. Such are the oddities of the ol' "white cube," I suppose...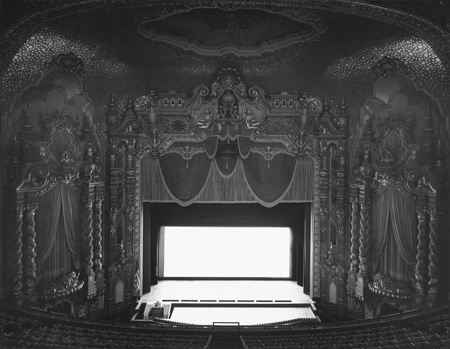 Next I took in the room of photos of empty theaters. There were some pictures of vacant drive-ins, but more striking to me were the decorous interiors of huge auditoriums, some swanky to the point of gaudiness, with their empty rows of chairs and the glowing blank screens. Again, there's that sense of haunting bigness, although somewhat different. I also liked the interest in these photos in something I tend to overlook merely as a setting for one of my favorite pastimes (being a big moviegoer). There was a short documentary video on Sugimoto showing as well. I walked in and sat down before realizing that it was narrated in German. Too bad. But here I was, alone, sitting in an empty theater of sorts. A small, minimal gallery screening room with stackable chairs, as opposed to, say, the Ohio Theater, but no less ostentatious. It seemed I was looking through Sugimoto lenses now...
Another room featured photos of dioramas from New York's Museum of Natural History. At first glance, they appear to be photos of actual captured-in-the-field scenes. Well, sorta. Some depict dinosaurs, and the over-neat compositions quickly betray a staginess that eventually reveals the gimmick (and bring to mind the fashionable names of Jeff Wall and Andreas Gursky). These were great. I couldn't find any online pics of my favorite, a prehistoric undersea scene (trilobites in the hizza!), so the bizarrely bloodless seal slaughter depicted above will have to do.
And for the mathematically-minded out there, there was a small series of photos of mathematical forms. I couldn't make head or tail of the equations summarized on the title cards, but the pictures sure were purty. These reminded of some drawings by
Lun-Yi Tsai
that Kelly and I saw in Seattle this spring, which were inspired by the research of some of Kelly's UW colleagues.
The final room presented some highlights of 20th century architecture. Think Mies van der Roe, Frank Lloyd Wright, the World Trade Center, the Chrysler Building, etc. In this series, Sugimoto pulls the images slightly out of focus, giving the sleek structures some softness around the edges. Very nice, and made me think again of Richter, this time his painted portraits of photographic imprecision. Apparently, K20 caught this vibe too, because the very next room was filled exclusively with Richter work, including one of the glass sculptures I'd been thinking of back in the first room, similar to the one below.
After I finished with K20, I trekked over to K21, a fifteen minute walk. On the way, I passed numerous posters advertising the Sugimoto show at K20. I also passed this ad, which seemed to have the last word on my morning.
Unfortunately, K21 didn't have much I hadn't seen before (figuratively, not necessarily literally). Despite the implications of the name, I'd say most of the stuff housed there actually dates from the second half of the 20th Century. Maybe I'd maxed out my receptiveness to the whole art museum thing by this point, but I really wasn't feeling K21. Except, perhaps, for the full-time security guard watching over a room solely containing two cheap television sets playing semi-obscene Paul McCarthy videos (dating from 1975, by the way). Let's say, speaking hypothetically, I kicked in both screens. Would the replacement cost exceed the weekly security expense? It wouldn't. This fact I appreciated more than anything on display at K21.